Reiki
Reiki (pronounced Ray Key) is a gentle, powerful, and effective method of natural healing that is both a form of bodywork and energy medicine. Our bodies have the innate wisdom to heal. However, stress, illness or injury can cause imbalances or blockages in the flow of our body's natural energy. Reiki relaxes, soothes, comforts, relieves pain, reduces symptoms and accelerates healing. It supports our well-being and strengthens our natural ability to heal.
How does Reiki work?
Reiki gently encourages balance throughout the entire body, mind and spirit by promoting deep relaxation and rapid stress relief. Reiki uses channeled energy through the practitioner's hands which blends with the body's internal energy system causing relaxation. Relaxation and rest are the switches that turns on our body's natural ability to heal. Relaxation is not a luxury; it is a medical necessity.
What can I expect during a session?
Picture yourself lying comfortably and fully clothed on a treatment table. As the Reiki practitioner places her hands lightly on your body, or just above it, you feel yourself drawn into a relaxed state. Your breathing becomes slower and more comfortable. Each hand placement brings a deeper sense of relaxation and your mind begins to quiet. There is a transfer of healing energy through the Reiki practitioner's hands and you feel tingling, pulsing, cooling or warmth.
What are the benefits of a Reiki session?
Everyone can benefit from Reiki. It is safe, gentle and non-invasive. There are no contraindications to receiving Reiki. It addresses both acute and chronic conditions promoting balance among all body systems. Reiki does not fight disease, it strengthens our natural ability to heal.
Some noted benefits include:
Improved management of cancer pain
Reduced pain and anxiety
Effective in relieving headaches
Improves sleep
Accelerates any natural healing process
Lightens side effects of medications
Improves digestion
Is a complement to medications, surgery, and chemotherapy
Is a wonderful modality for those who are touch sensitive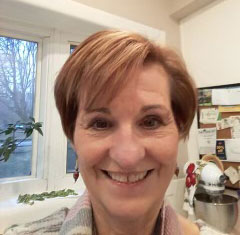 Our Reiki Practitioner
Julia Pomeroy
"I have been a Reiki Practitioner since 2001. My personal connection with Reiki began with a therapy session. During a most emotional time in my life, I sought help. Immediately, as the practitioner laid her hands on my abdomen, the journey began for me. I earned my Master's in Non-traditional Reiki in 2005 and a Master's in Traditional Reiki in 2016. As I have learned, "with Reiki there are no accidental connections." I am honored to be instrumental in the start up of a Volunteer Program at the Braemer Cancer Center of Einstein Montgomery Hospital, where I offer Reiki to patients in the Oncology Center."