Reflexology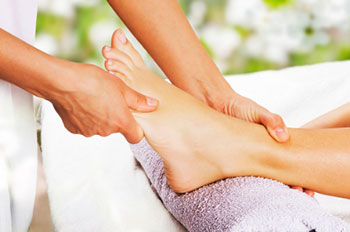 Reflexology is a form of treatment by means of pressure points on the feet and hands. It was known in India and China 5,000 years ago! A drawing from an Egyptian tomb dating 2330 BC depicts foot and hand massage. The Incas are also credited with this knowledge reaching back to 12,000 BC, and passed this information to the North American Indians who are still using this form of treatment today.
Reflexology is a complementary, biological, integrative, blended health science, through which an exercise pressure is applied to reflex areas formed by 7,200 nerve endings in each hand and foot, encouraging improved instruction to each and every specific organ, gland, and part of the body, thus persuading the body to biologically correct, strengthen, and reinforce itself, to reach balance, normalization and homeostasis.
Reflexology is not medical treatment nor a substitute for professional medical advice.
How does Reflexology work?
According to the foundational principle of reflexology, called "zone therapy", energy streams through the body in 10 vertical zones. Pressing into a reflexology zone on the feet or hands balances the flow of energy through the related body zone.
Reflexology encourages muscles to relax and blood vessels to dilate, reducing circulatory restrictions. The uninhibited flow of blood delivers abundant oxygen and nutrients to all cells and transports toxins to organs responsible for elimination. Reflexology also works through the nervous system. Deep pressure applied reduces congestion in nerve endings, enhancing circulation in the local regions (feet, hands) and soothing areas throughout the body connected to the cleared nerves. The giver's nurturing presence also contributes to the healing power of reflexology.
Reflexology allows the body to self-correct and every time a person has a reflexology session, it is an examination, an evaluation, or a re-evaluation of the entire body and all its 12 systems. Reflexology improves the nerve, blood and lymphatic supply. The goals of reflexology are to re-educate, re-pattern and re-condition the nerves. When the nerves improve, the instruction improves, the body must improve, thus, an overall health enhancement therapy program.
The use of certain essential oils, diluted in a carrier oil or lotion, enhance reflexology as the healing oils penetrate through the dermal layers into the blood cells and nerves.
What are the benefits from a Reflexology Session?
Improves energy flow, blood circulation, and nerve function, strengthening the body's natural healing processes and restoring total balance;
Known to reduce the unpleasantness of illness and cancer treatment i.e., pain reduction, nausea, diarrhea, constipation and much more;
Effective for pain management as it enhances the release of endorphins;
Improves sleep;
Improves digestion and elimination;
Reflexology can be used as both a preventative and restorative health maintenance;
Plus... it feels so good - most sessions are relaxing and inspire mental clarity as well as physical relief.
When not to have Reflexology
If you have a blood clot
If you have any foot or lower leg open ulcers, wounds, burns or recent foot/leg surgery. In these cases, Reflexology can be provided on the hands.
Our Reflexologist
CAROL STELLA
Certified Reflexologist and Aromatherapist
I was born and raised in Rochester, New York and attended Rosary Hill College in Buffalo, New York, concentrating in Teaching English and Art. I have enjoyed traveling domestically and internationally and finally settled in the greater Philadelphia area. My husband and I were gifted with one daughter and we will be celebrating our 50th wedding anniversary in December 2022.
While working at a local YMCA, I was introduced to the holistic world. Although I have learned many modalities I was unconditionally drawn to Reflexology! In 20I5 I received my Certification in Foot Reflexology by the Medical Mission Sisters of Philadelphia and my Certification in Hand Reflexology followed shortly thereafter. I found that integrating Aromatherapy into my Reflexology sessions enhanced the results; I furthered my interests and my education by adding the world of Aromatherapy to my practice.
In 2016 I became a Certified Aromatherapist and in 2017 a Certified Teacher of Aromatherapy. Carol Cares Aromatherapy LLC then opened, where I teach Essential Oil Safety and offer my products to the public.
My first Reflexology session with a client starts with a health conversation and for those unfamiliar with the benefits of Reflexology - an introduction to my practice. From there you can relax for a 1 hour foot session or a 1/2 hour session on your hands. After your treatment, time is given so that you can come around from your state of deep relaxation and finish with a short discussion on findings if you are so inclined.
"My experience with Carol was amazing! I will definitely be back. Really loved it . One of my favorite experiences ever!" - Gloria, Doylestown
Reflexology Cost
1 hour foot reflexology, $85.00
1/2 hour hand reflexology, $50.00