Meditation Classes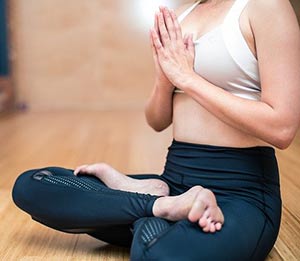 Imagine moments of stillness and clarity that can be a stepping stone or home base! During meditation we can find inspiration, insight, and illumination while gaining many health benefits. These include:
enhanced self-awareness
improved focus, concentration and memory
enhanced immune system
reduced anxiety and stress
lower blood pressure
improved quality of sleep
increased creativity and development of intuition
overall calm and relaxation!
The numerous scientific studies as well as anecdotes offer an overwhelming invitation to give meditation a try. Like exercising the body, meditation is a practice that can transform your entire physiology over time. Sometimes in meditation we experience something familiar. These are the "aha" times when you begin to realize that you have had quiet moments of contentment or peace before. Meditation helps us to both become more aware of these moments and to know more of them.
There are a few basic types of meditation. In our classes we alternate using different ones. This gives each person the opportunity to see what might resonate most with them, and it may be all of them! Each class includes breath work, and a balance of guidance and silence. No matter what your level of experience, you will come away feeling calmer and more centered and will be offered ways to incorporate meditation into your daily life. We look forward to meditating with you.
"Once you awaken the stillness and silence that rest beneath the layers of activity in your daily life, you will know it is there and forever available to you."
- Davidji
"The act of meditation is being spacious."
- Sogyal Rinpoche
Our Instructor
LORENE BOTTOMS
Certified Reflexologist and Yoga Instructor
About Lorene: Sharing the gifts of Reflexology, Yoga and Meditation has been a privilege, allowing me to guide my clients on their health journey. These are ancient and timeless practices. My goal is to share them, and empower others in taking active roles in attaining more optimal health. My first experiences of the holistic practices were with yoga, sacred hula dance, tai chi and chanting. Once you are touched and opened, there is no going back. The spark was ignited, and I inherently knew more was in store! In 1998 Yoga, and then in 2008 Reflexology formally began as an adjunct to my career as a special education teacher. Gradually they grew into an integral and then sole part of my professional life. In July of 2018 I moved to Bucks County from Brooklyn, N.Y. I look forward to connecting with and making a difference in others' lives through these methods. In Reflexology I am Certified and trained in working on the feet, ears and face, and am certified in Yoga, Restorative Yoga and Pre-natal Yoga.
"Thank you for the opportunity to practice meditation with you. It lit the fire in me to make time to meditate and reminded me how important it is. You are so welcoming and you can tell you love what you do. Last class was so wonderful - it was delicious! I felt so energized and open afterward. The restorative yoga poses with reflexology were amazing. Thank you for effecting my well being so deeply."
- Michelle F.
"I have had the good fortune of taking yoga and meditation classes, and receiving reflexology sessions with Lorene. She is extremely encouraging and so highly skilled. In terms of reflexology, Lorene's reassuring and calming manner helped me relax enough to have my first positive experience with 'touch'. I then sought and welcomed regular sessions that have made long lasting effects on my well being. Aside from the actual sessions, Lorene always offers suggestions and teaches me things to do to support myself both in between sessions and in general. I really can't articulate all of the things I am grateful for."
- Chris S.